expert on dietary needs and disney dining
My family has a lot of special needs that make dining interesting to say the least. We've got lots of allergies between the group of us plus DH is a type 2 diabetic (who cheats frequently) and DD15 has Asperger Syndrome which is a high functioning form of autism.
Here's our lists of allergies.
DD15: gluten, milk, eggs, citrus (citric acid is ok), yeast, msg, peanuts (minor - cross contamination not a concern)
DD12: gluten, milk, hazelnuts, brazil nuts, ,sesame, hops, peanuts (minor - cross contamination not a concern), blueberry, cranberry, raw carrots, lima beans, raw fruit skins besides grapes, citrus (citric acid is ok) soy products other than Tofutti and Follow Your Heart (soy's not the problem but we haven't identified what ingredient in Silk and other soy products cause Oral Allergy Syndrome)
Me: gluten, milk, sesame, hazelnut, peanuts (minor - cross contamination not a concern), pork (trace amounts ok)
We've eaten at 1900 Park Fare for supper a few times, but only once since Chef TJ moved over. DD12 missed that dinner and I lost my camera that trip so I don't have pictures of him or the food so I wanted to go again so that she could experience his awesomeness and I could capture said awesomeness on film. A few days before our reservation I found out from another chef that Chef TJ was out on leave but I figured that when he worked at 'Ohana he trained all the staff to do things his way and I've seen reports of other chefs doing the "Chef TJ" style meals so I figured I'd keep the ADR even though I wouldn't get a picture with him.
I'll let you know up front, the chef did NOT do things Chef TJ's way. Bummer!
We had an opening (4:30) ADR. We typically eat early and it's important for DD15 to eat on time. This also typically means being seated on time and low crowds for checking in. Well, I made the mistake of booking the ADR on a park day so DD15 was already getting uncomfortable just waiting for them to open the doors to check us in. While we were waiting before and after being checked in it was difficult to create space around her so that she could cope. It's very bright in the lobby area and something about the tile and brightness and all those people crammed in such a small area just makes it seem over stimulating and stressful. Luckily we didn't have a long wait, but the opening with everybody shouting Bibbity Boppidy Boo had her freaking out because she was already on edge.
We were maybe third in line so we were escorted in very quickly, thank goodness. We were given a table right by the kitchen door. It seemed like it might have been too close to everything but her chair was never bumped and we really didn't notice people passing close to us to get to the buffet so it worked out just fine. In fact, we were always the first table to see the characters so that was kind of nice. We would watch them come out the doors behind us whenever they were announced.
The chef came out pretty quickly to talk to us. For those of you who know Chef TJ's style, he makes lots of recommendations. Not this chef. She asked what we wanted. Uh…… what have you got? Anything you want. Uh….. I have no idea, what is there? At this point I asked if we could just walk around the buffet so I could get an idea of what kinds of ingredient she had to work with. I have no idea if she could have done other things or not, but here's what we ended up asking for based on what we saw on the buffet. DD15 could not think of what sounded good as we were talking and was bordering on meltdown at this point as I tried to get her to make a decision so I had to kind of choose for her to a degree while trying to gauge what would make her happy. TS dinners on park days are very difficult for her.
The tomato soup (I think it was a Florentine?) was safe for me so I decided to try it. It was pretty tasty.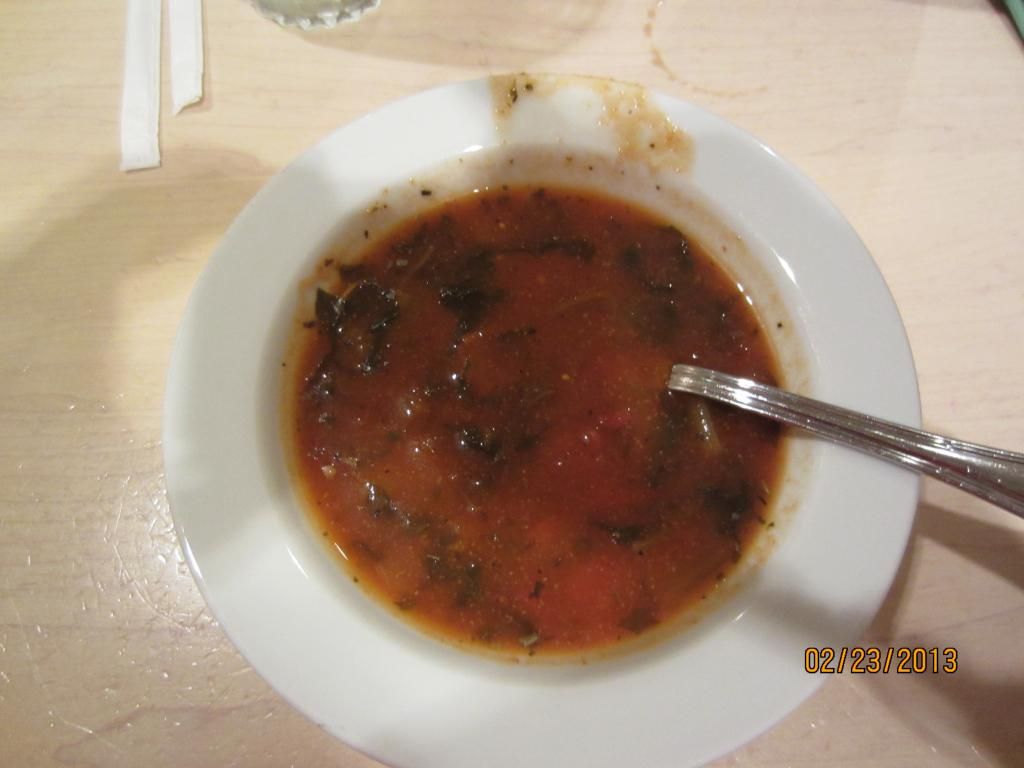 I was the only person who wanted a salad. I remember how much I enjoyed the creativity and beauty of Chef TJ's salad (I realize I'm unfairly comparing her to Chef TJ, sorry) so I was disappointed that I didn't get something like that, but it was still a nice salad. She told me I could just get it from the buffet but I wasn't comfortable with that considering how much dairy and gluten was all around the salads. She agreed to get me a salad from the kitchen.
I don't recall how the salmon on the buffet was prepared but I do remember I couldn't eat it. The chef brought me out a freshly cooked piece. It was very nicely cooked, just a simple sear.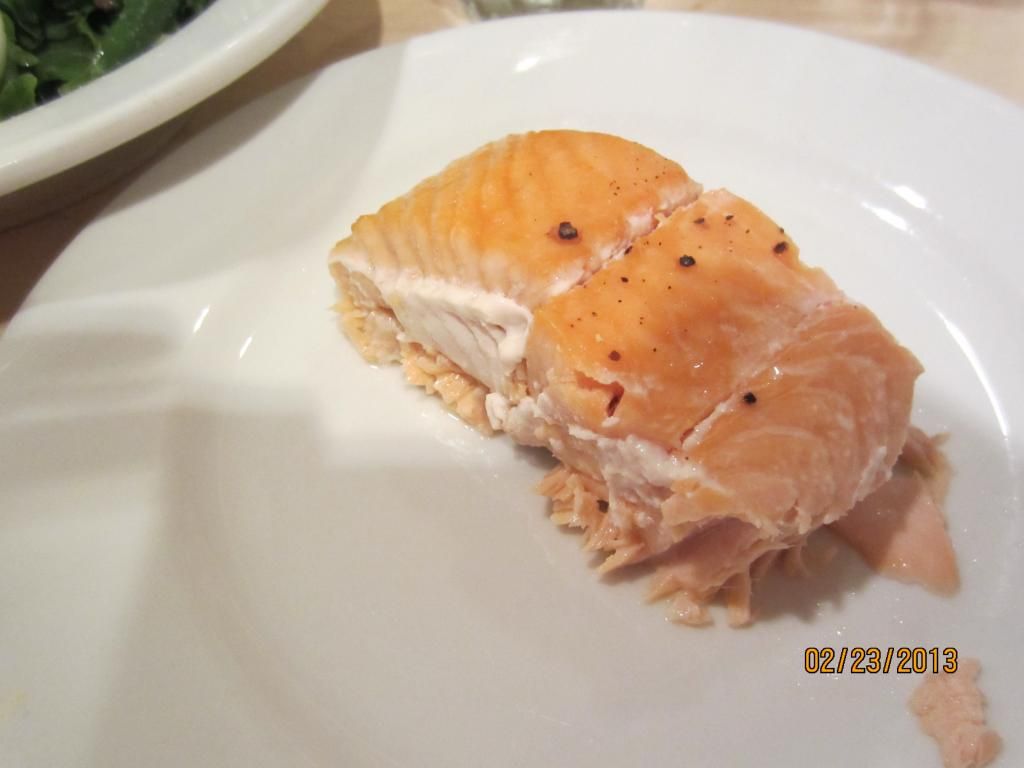 I'm suddenly realizing that I must be missing some pictures. I'll see if I can find others. I don't recall what else I ate but I know I put together a hot plate for myself including some prime rib as well as a plate with some fruit and peel & eat shrimp on a cold plate.
The girls really weren't asking for a lot. I know DD12 ate some of the fruit and peel & eat shrimp I grabbed but I don't remember if she got anything else from the buffet.
DD15 is a huge mushroom lover so she asked for a dish of mushrooms. The chef gladly sautéed some up for her. She said they were delicious.
DD12 is a huge shrimp fan so in addition to the peel & eat shrimp she also asked for some additional hot shrimp. The chef gladly sautéed some up for her. I tried some since there was too much for her to eat and they were plump and tasty.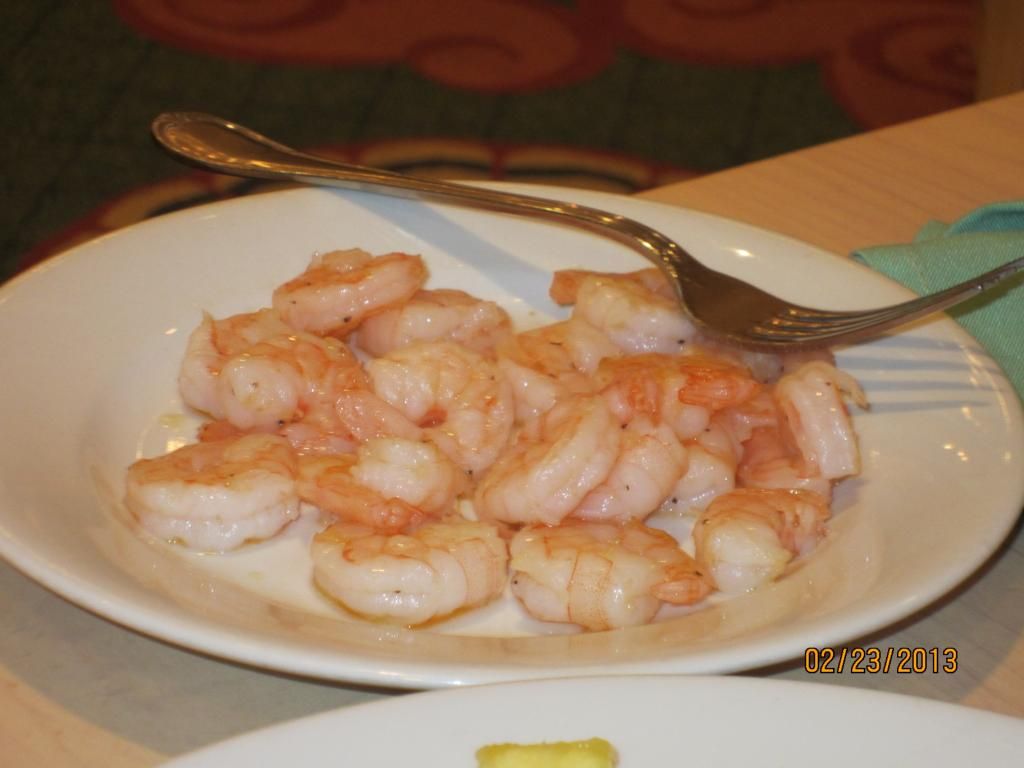 Both girls decided they wanted a create your own pasta dish. The chef did have gluten free pasta in the kitchen but warned us it would take a while since Tinkyada does take a while to cook. That was fine by us as long as the kids were happy with their food. She gave the girls options for what kind of oil (olive, garlic, a few other choices) as well as what to go with the pasta. Neither wanted sauce, just sautéed.
DD15's was tossed with oil, garlic, I think a bit of additional mushroom and lots of fresh parsley.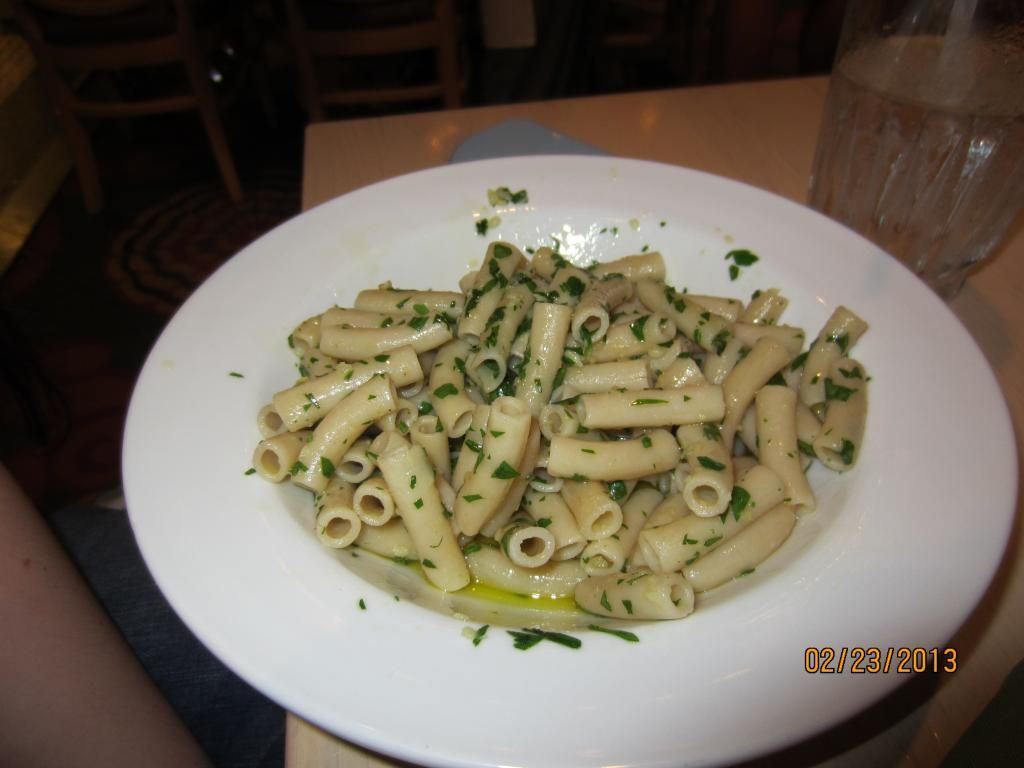 DD12's was tossed with oil, fresh parsley and lots of bacon.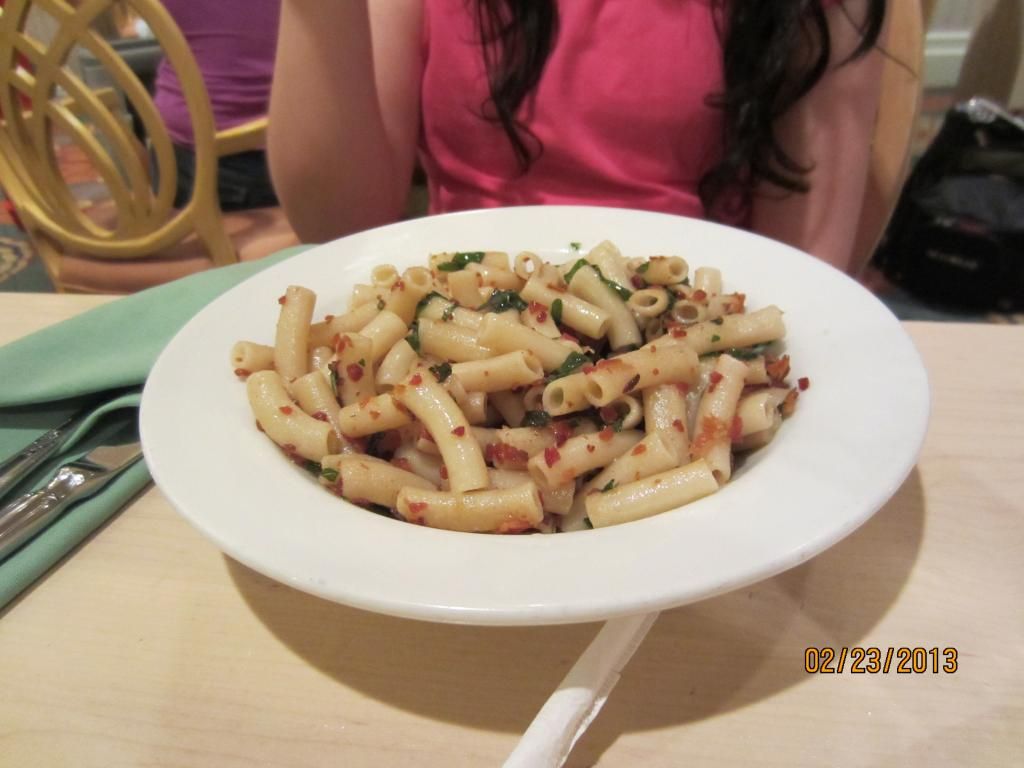 They both loved their pasta dishes. They did have lots of other options that they could have in it but this is exactly what they asked for.
The chef brought one of these for each of the girls. Those are crunchy Enjoy Life chocolate chip cookies with vanillaTofutti ice cream.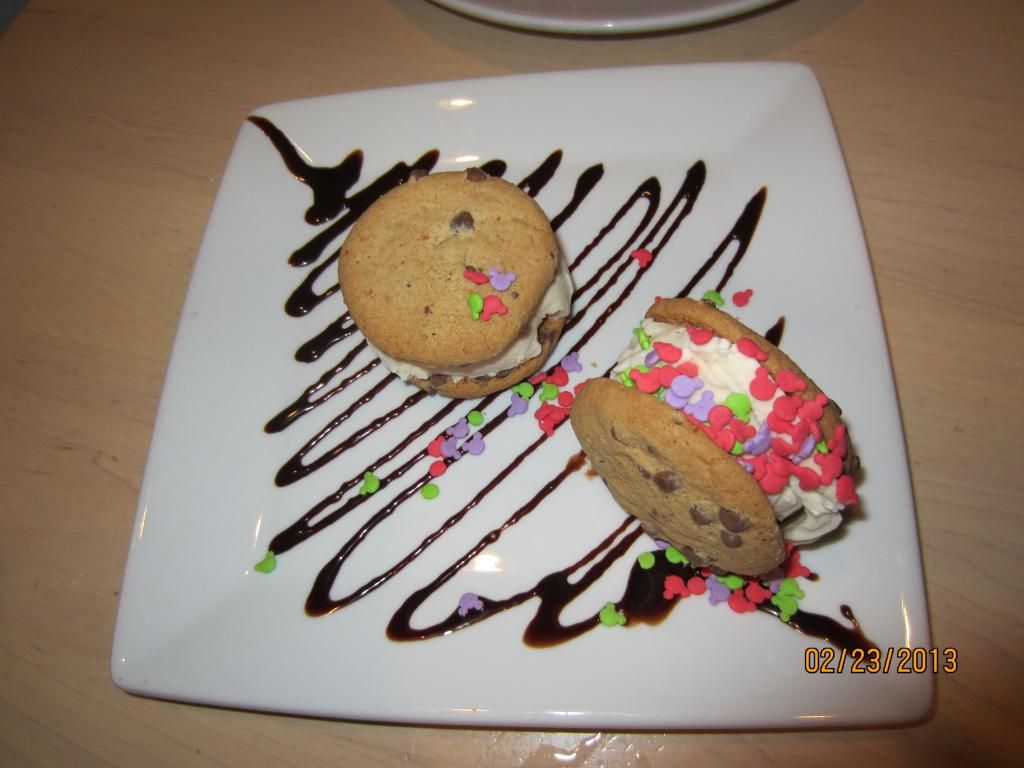 The chef brought this for me. I think that's an OMG chocolate chips cookie shaped with some kind of round cutter (like a cookie cutter but probably sharper) topped with vanilla Tofutti ice cream.
Clearly not Chef TJ desserts. They tasted good and they were done up in a very appealing style. It's just hard not to be disappointed that they were the exact same components that are served everywhere else when Chef TJ's desserts are famous, we've had it once before and DD12 didn't get to try it in the past. I know, I know, our expectations are unreasonable and we did enjoy our desserts as well as the rest of our meals.
Then there was something special for DH. We were staying at the Polynesian in a club level room. I had made sure that the chef in the lounge knew we wouldn't be there that evening to get any hot food so that she wouldn't go to the trouble to prepare something for us. She knew our schedule from the Special Diets form and saw that we'd be at 1900PF. Her DH is a chef over there so she asked him to arrange for a sugar free dessert for DH (he's a T2 diabetic and she had been arranging for a sugar free dessert for him every night in the lounge). Here's what he sent for DH. I bet it was high in carbs even though it was sugar free and I assume it was made with some kind of artificial sweetener but boy was he happy. Of course he wasn't told about it until he had already sampled some of the desserts on the buffet and of course he wasn't about to be rude by not eating it (oh brother). The sacrifices he makes….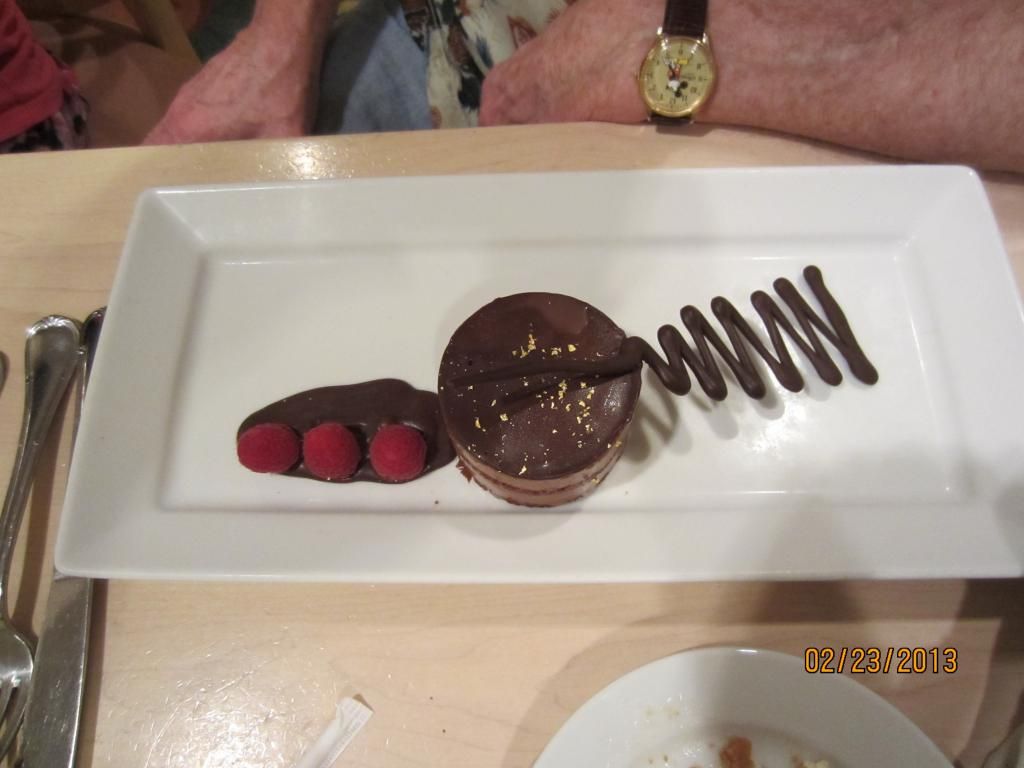 As to the characters, I was quite disappointed. I felt like they were all basically phoning it in. They had their basic scripts and didn't veer from them. I tried kidding around with a couple of them to get them interacting more with the girls and they just smiled, posed and said goodbye before moving on. I did see them spending more time and interacting more with little kids which is great. It just felt like for bigger kids and adults they couldn't be bothered. DD15 was actually trying to interact so it would have been nice if there could have been more. Maybe it was more that we were the first table so they hadn't really gotten into it yet. Who knows? At least it wasn't overwhelming. For some ASD kids it would probably have been a really good thing to be at the first table because that way they don't have to deal with the anticipation of seeing the characters and having to wait while they went to other tables.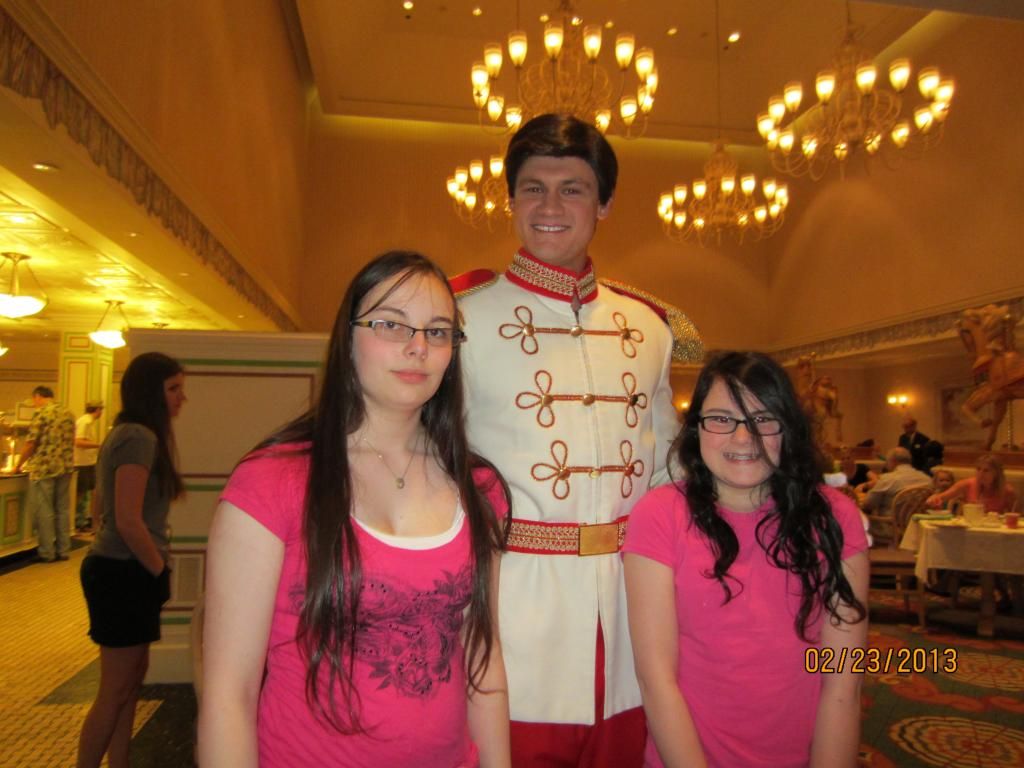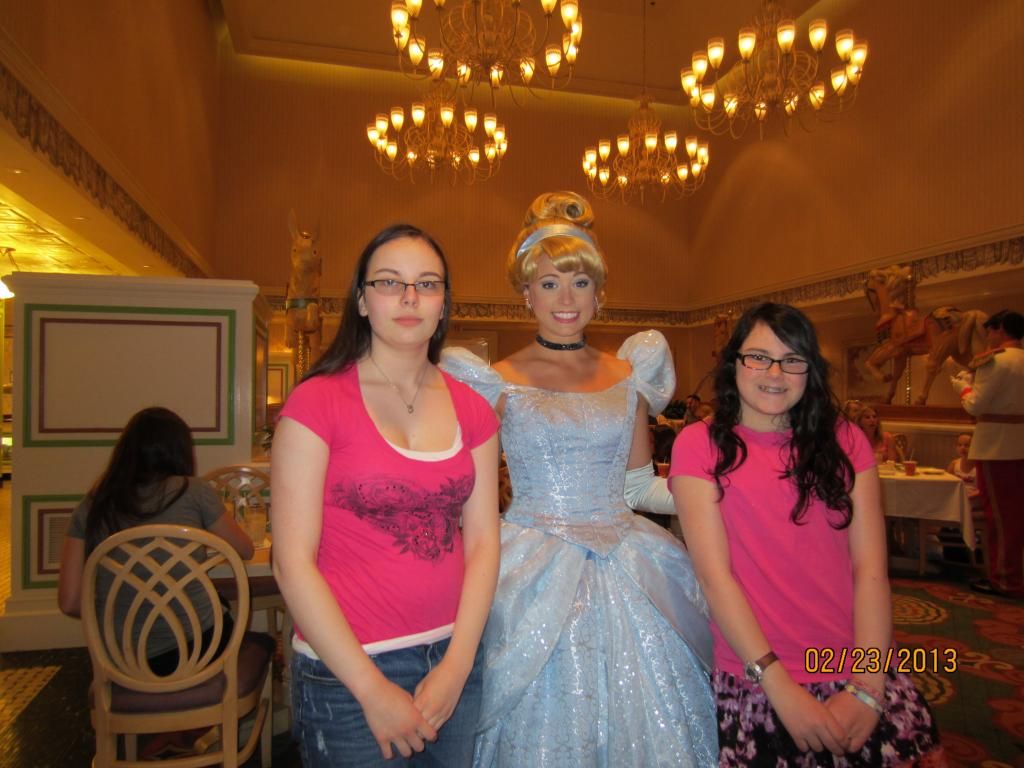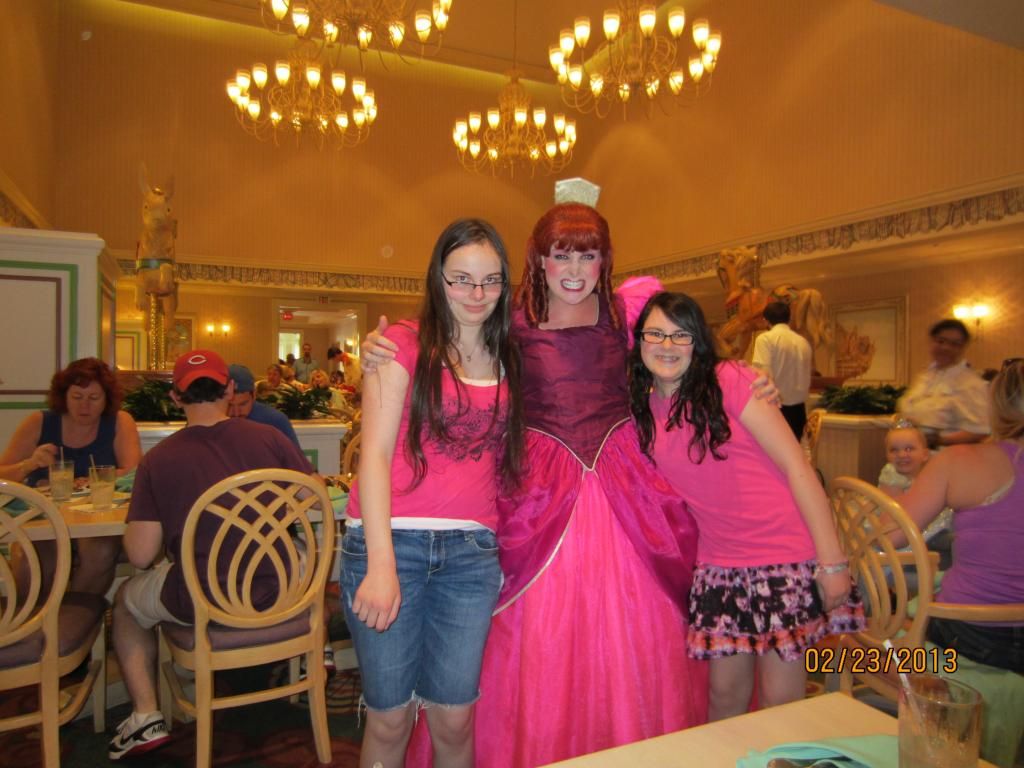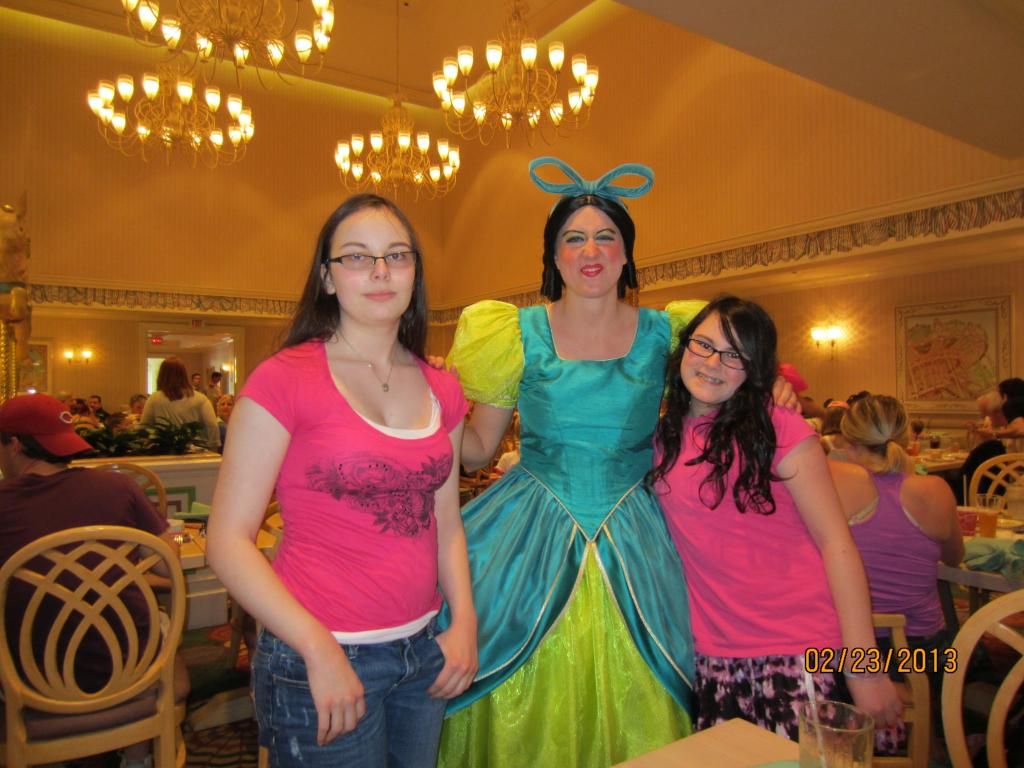 Overall it was a good meal. Since my kids aren't all that into characters I'm not sure if we'll be back. I suppose if I can be sure that Chef TJ is there I might try it again but overall it wasn't anything that stands out over other meals.