I had to visit DTD Guest Services this weekend to renew my pass, and thought I'd make an afternoon of it. Pear cider was calling my name, so I dropped in to Raglan Road for their Rollicking Raglan Sunday Brunch. It was noon and I expected it to be much busier than it was. I was happy to find there were plenty of tables available, both inside where the entertainment was and outside on the patio. I chose to sit outside where it was sort of a seat yourself arrangement.
I started out with a Magner's Pear Cider and an order of onion rings. Bread was promptly delivered and the onion rings arrived shortly thereafter. This bread is a real treat. Their house made irish soda bread is rich and hearty and accompanied by an outstanding Guinness dipping sauce. Such a nice change from the usual bread service in many restaurants. If this were an item on the menu, I'd order it. It was that good. The dipping sauce was sweet without being cloying; a reduction of Guinness and sugar with a finish of olive oil. Completly addictive. The onion rings, on the other hand, I wasn't immediatly in love with. I'm accustomed to lightly crisp and slightly oily onion rings. These were crunchy, and a bit hard with much less oil. Then I noticed the bottle of malt vinegar my server had brought along with the bread. A light douse of this and a little salt and I totally got it. So good I ate the whole basket. These can also be made gluten free if you are so inclined as can several other items on the menu.
After this I had the Vroom Salad.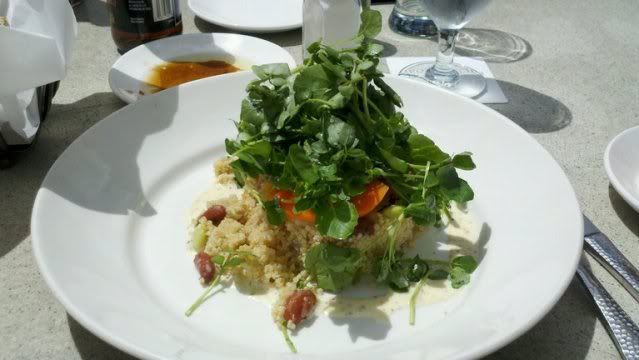 From their menue:
Vroom Salad - Gluten free quinoa grains with cider vinegar marinated beans, sweet & sour carrots, watercress & a honey mustard dressing. Add chicken or shrimp

This was delightful. The presentation was a nice visual surprise. I enjoy stacked food when it makes sense. This was a generous portion of quinoa. Perfectly cooked so that it it was tender, yet firm enough to provide a base for the other ingredients. The quinoa has just the lightest hint of garlic and was just seasoned enough that what might have been bland or overwhelming, become fragrant. The beans, (kidney, great northern and baby lima) had a mild cider sweetness from the apple cider vinegar in which they were marinated and the layer of carrots provided both color and a pleasant balance to the garlic. They were billed as being sweet and sour, but I found them to be, as with all the ingredients, very light in their sweetness. Just enough to give them depth, yet allow the flavor of the carrot to come through. This was topped with a nice portion of crispy watercress, (love watercress for it's almost peppery bite) and drizzled with a house made honey mustard vinegrette. So often dressings take center stage and overwhelm the other ingredients, but this one was so subtle I almost forgot it was there. Provided just enough flavor and cohesiveness to bring all the other ingredients into perfect balance. Very enjoyable and quite filling given the protein from the quinoa. Highly reccommend this salad to those looking for a healthy and satisfying lunch.

I decided to skip dessert, though the menu looked good, and settled on hot tea. They offer a small, but unique selection. I chose one called Garden Tea...something like that.Very floral and fruity, with berries and rose petals. Anyway, it was a nice finish to a delightful, though maybe not so Rollicking brunch.




Last edited: