expert on dietary needs and disney dining
I'm terrible about starting and not finishing trip reports so I'm not writing a trip report. I do have some good stories from our trip so I figure I'll share some random stories from the trip.
Cast of Characters:
Me: I'm a self proclaimed Disney addict. I suffer from (or enjoy depending on your point of view) what I call OCDD (Obsessive Compulsive Disney Disorder). I ramble. A lot. At least when I write I'm rather verbose. In person I talk a lot if it's a subject I really like or know a lot about otherwise you wouldn't know I have a voice and I can be kind of anti-social. I'm pretty sure I have Asperger Syndrome but I've learned to cope over the years. I have a bunch of food allergies and intollerances as well. I'm very detail oriented and I'm the planner of the family which feeds my OCDD.
DH: DH is kind of my opposite. He's not at all detailed oriented. He's the idea person in our marriage. He's great with the big ideas and grand concepts but then doesn't really know how to implement. He sits back and lets me do the planning as long as he gets to say some specific things he wants to do and places he wants to eat. Works for me! DH is a type 2 diabetic who really doesn't follow his moderate carb diet.
DD15: My 15yo is an unbelievably creative, artistic Oswald the Lucky Rabbit addict. She really does have a true obsession. She has Asperger Syndrome which is a high functioning form of autism which makes all of my OCDD planning even more critical. She also has a bunch of food allergies and intollerances.
DD12: My 12yo is I think the most normal person in our family. She's an amazing singer (definitely plans to audition for American Idol when she turns 14) who is the sweetest kid, unless she's dealing with me in which case she likes to try to get my goat, the little stinker. She also has a bunch of food allergies and intollerances.
Here we are waiting for the monorail at the Polynesian, our absolute favourite resort.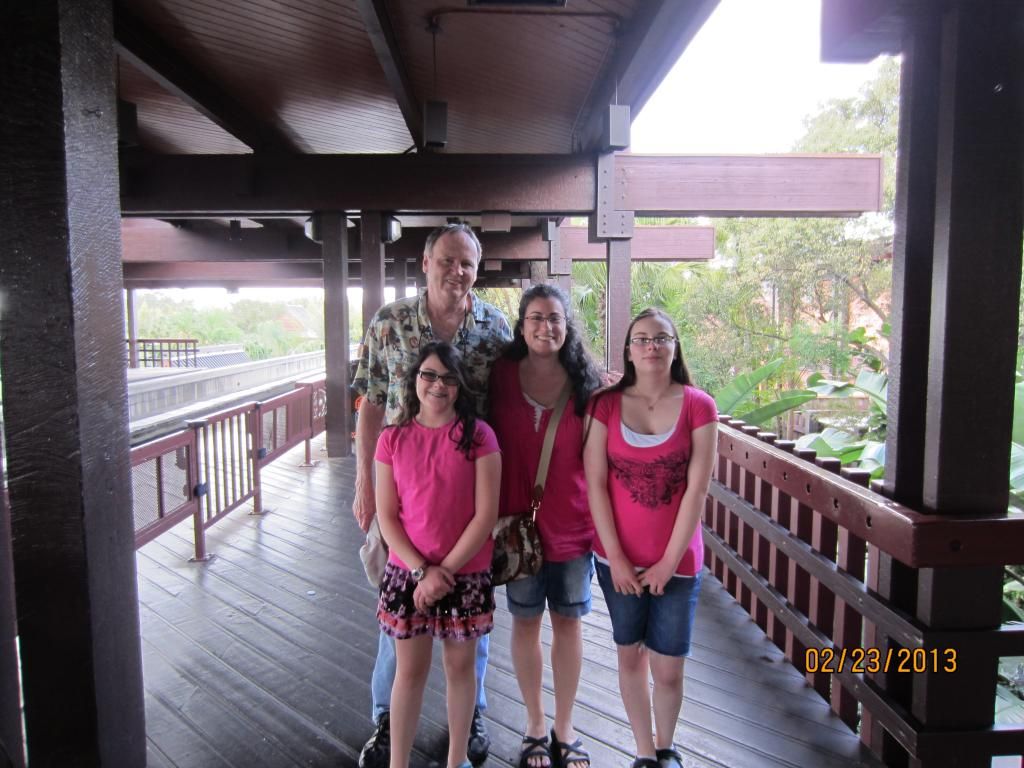 Accomodations:
This trip we stayed at the Polynesian. Our February trips typically are at the Polynesian. Our TA arranges really good group rates for the Princess half marathon which happens to fall during our February school break every year and we really just love it there . The Polynesian really does have some of the nicest CMs we've ever met plus there's just something about the theming that just "speaks" to us. Sure it would be nice if there was a hot tub but otherwise we really love it. It's nice that we can all fit in one room at this resort since they have day beds in all the rooms. DD15 has to have her own bed (it's a sensory thing associated with her autism; if she has somebody too close to her she can't seem to sleep) and loves the day bed.
On with the stories.......
Last edited: